Written by Terence Teoh

"What is the difference between being effective and being efficient?"
That's a question that our consultant asked our team just a few days ago.
To me the answer is simple, we are effective when we do the right things, we are efficient when we do things the right way.

On the 24th of February 2023, Beyond Insights was awarded the Best Brand in Curriculum & Coaching for Stock Market Investing and Trading at the Top Asia Corporate Ball 2022/23.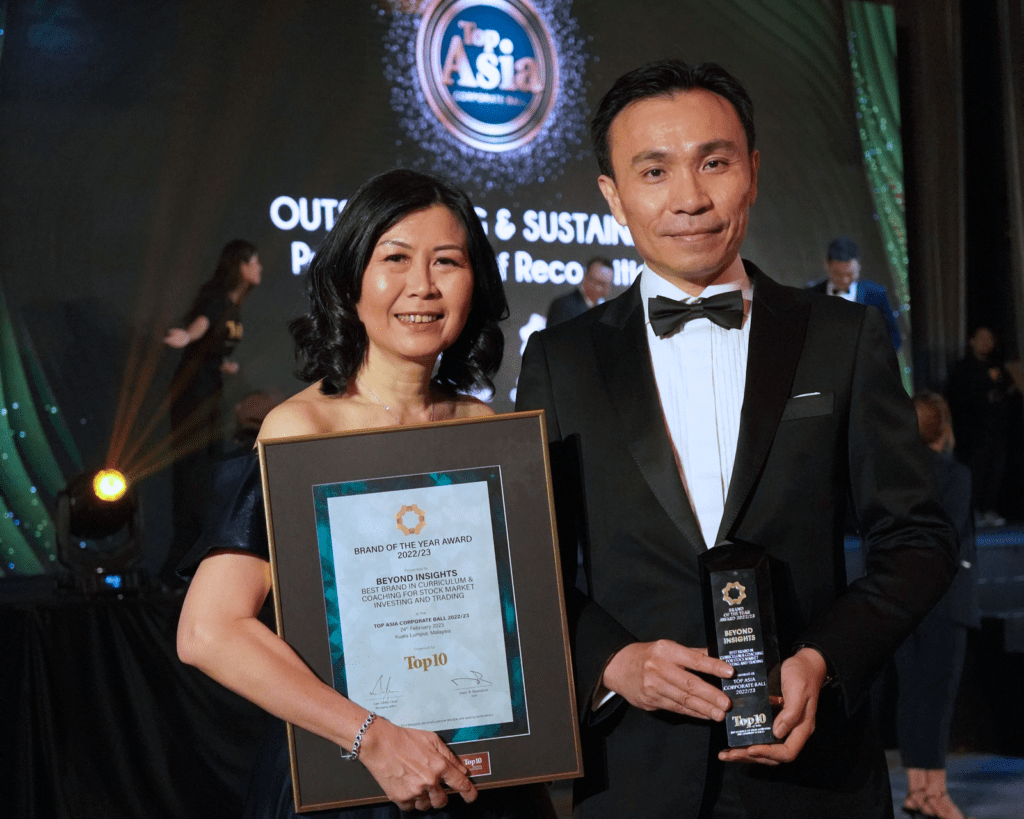 Although we have received a few other awards over the years, this one is special to us. It was 10 years ago – when Beyond Insights was just 5 years old, the same organization awarded us the Top Financial Training Company in Malaysia. Back in 2013, that was the first of such recognition we have received, and I remember at that moment I thought "wow… we've come a long way!"
Truth be told, when Kathlyn founded the company in 2008, we did not have any clear direction and no idea how long we will last on this journey. Beyond Insights started purely out of Kathlyn's passion to make a difference in people's lives, and also because Kathlyn could no longer stand the idea of trading at home alone while I was still out there attempting to be an entrepreneur.

From my memory, in the first 3 years of Beyond Insights we have conducted less than 10 classes, it was only in 2011 when we really step on the accelerator and be convinced that we really want to bring out the best in people in their financial future. Getting the Top Financial Training Company award in 2013 was an important encouragement and affirmation for us, that we are doing the right thing, we are making best use of the talent God given to us. We are indebted to the founding members of Beyond Insights team who has given us the assurance that this is worth doing.
Then… we spent the next 10 years doing things right, making things even better. Kathlyn and the team has worked relentlessly to add clarity, structure and process to our education programs, so that our students have even better ability and motivation to get better results as a result of the continuous improvement. The Best Brand in Curriculum & Coaching award was an acknowledgement that we have done things the right way. We are really grateful for the team for their commitment to excellence and the Beyond Insights mission.
So what's next?
Well… there is still so much to do!
The pandemic has brought on changes, changes in the market and changes in the way people work and learn. This year we see A.I. flourishing in the technology space, creating so much possibilities in helping us to be more effective and more efficient in what we do, so that we can make learnings easier and faster for our students.
We are grateful to all of you who has been with us on this journey, and we want to invite you to explore the new path with us…
Robert Frost wrote "Two roads diverged into a wood and I – I took the one less traveled by, and that has made all the difference."
It's a road less travelled because we believe trading is a journey of character building, so those who take on this journey will make lasting changes in their lives. Let's go.
Discover how you can get started on your trading journey by joining us in an introductory webinar.